Buffalo Area EDS Teams Respond to 75 Vehicle
Accident During Blizzard
January 04, 2018
Michael R. Schwartz | michael.schwartz@use.salvationarmy.org | (315) 434-1367
---
Buffalo, NY - The Salvation Army Emergency Disaster Services Teams based in Buffalo, NY (Erie County) responded to
a 75 vehicle accident on the New York State Thruway Tuesday afternoon. The teams provided canteen and hydration
services to approximately 75 first responders who were involved in extracating, treating and transporting over 100 travelers involved
in the mile long accident that occurred during a blizzard warning caused by heavy lake effect snow and 45 mph plus winds.
The Salvation Army also assisted in providing hot drinks, water, snacks, blankets and emotional and spiritual care to 100
survivors of the accident who were stranded on the Thruway for nearly four hours before they could safely be rescued and
transported to a warming shelter at an area hotel.
"Our Buffalo Area EDS Team has continued to build on the momentum they gained during 2017. This team of highly
qualified and dedicated volunteers continues to serve when ever and where ever they are requested. It is a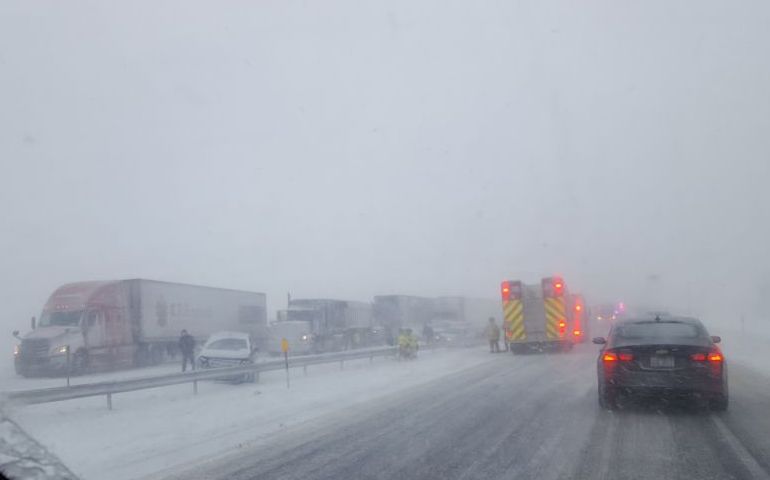 proud and humbling experience to hear our local first responders request our assistance by name over the radio
and then see the thanks and relief in the eyes of those involved when we arrive on scene. Whether it is a cup of
coffee for a cold and tired firefighter or EMT, a blanket for a traveler caught up in a white out leading to an
accident or simply a comforting word, our EDS Team is there, never searching out the limelight, just to be
a helping hand in a time of crisis." said Michael R. Schwartz, Divisional Disaster Director for the Empire
State Division of The Salvation Army.
For more information on The Salvation Army's Emergency Disaster Services, please contact
Michael Schwartz at (315) 434-1367 or michael.schwartz@use.salvationarmy.org
About The Salvation Army
The Salvation Army, established in London in 1865, has been supporting those in need without
discrimination for more than 135 years in the U.S. More than 25 million Americans receive assistance
from The Salvation Army each year through a range of social services: food for the hungry, relief for
disaster victims, assistance for the disabled, outreach to the elderly and ill, clothing and shelter to the
homeless, and opportunities for underprivileged children. The Salvation Army tracks the level of need
across the country with the Human Needs Index (HumanNeedsIndex.org). The Salvation Army has
served survivors of every major national disaster since 1900. The Salvation Army does not
place an administrative fee on disaster donations. During emergency disasters, 100 percent
of designated gifts are used to support specific relief efforts. For more information, go to
www.SalvationArmyUSA.org or follow on Twitter @SalvationArmyUS.
The Salvation Army Aids Thomas Fire Survivors as Recovery Enters Full Swing
December 14, 2017
Justin Pansacola | justin.pansacola@usw.salvationarmy.org
---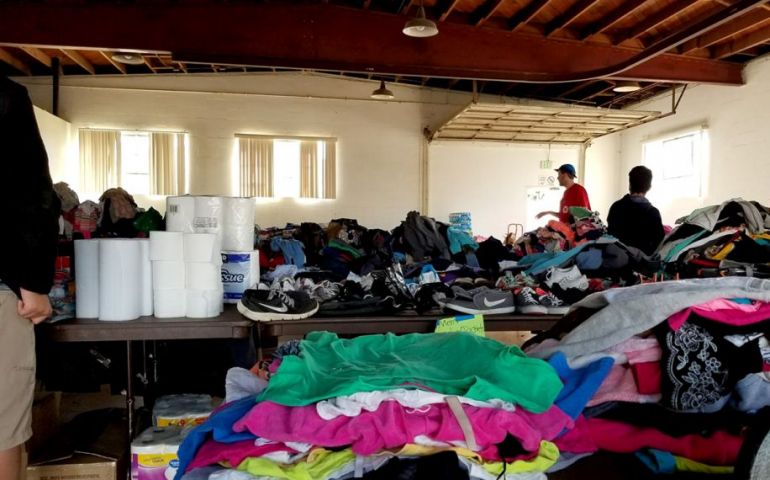 LOCAL ASSISTANCE CENTER AND DISTRIBUTION CENTERS OPEN IN NEW PHASE OF DISASTER RELIEF
Los Angeles, CA, December 14, 2017– The Thomas Fire remains a force to be reckoned with,
especially for the surrounding Ventura area. Containment levels have improved to 30%, and many
of last week's evacuees are looking for help from the many organizations and agencies that have
arrived in the wake of the disaster.
The Salvation Army has been serving the community since the initial evacuations last week. At
two major shelters, we served a combined total of 4,619 meals, up until December 9.
As shelters have scaled back and some evacuation orders have been lifted, the focus has
shifted into recovery. This has taken the form of distribution centers at The
Salvation Army Ventura Corps (650 S Petit Ave, Ventura, CA 93004) and the
Santa Paula Community Center (530 W Main St, Santa Paula, CA 93060).
Both locations are distributing canned goods and non-perishable food items,
hile the Santa Paula location is also distributing clothing, hygiene products, diapers,
cleaning kits, toiletries and more to people affected by the wildfire. In three days
(December 11 to December 13) both centers have combined to distribute 99 blankets,
416 items of clothing, food items to 57 families/households, 144 cases of water and
417 respirator masks. Anyone affected by the wildfire that needs immediate supplies
is being instructed to stop by one of the locations.
A Local Assistance Center (LAC) has also been set up at Poinsettia Pavilion
(3451 Foothill Rd, Ventura, CA 93003). The Pavilion will host several agencies
and organizations, including The Salvation Army, to offer information and
assistance to survivors. The Salvation Army has been fulfilling needs by providing
financial assistance to families and individuals that have lost their homes to the fire.
The LAC is tentatively open until December 31 depending on the needs of the community.
The Salvation Army is asking the public for financial donations, which can then be used
to meet immediate challenges and specific needs. To donate, go to socal.salvationarmy.org
or call 1 800 SAL ARMY and donate to fire relief today.