Harvest Festival Auction at The Salvation Army
The 2016 Auction will take place on September, Thursday 15th. Doors open at 5:00 pm and concessions will be for sale. The auction begins at 6:00 pm at The Salvation Army-800 N. Cliff Avenue between 1st and 2nd Streets.

Auction items include furniture, lamps, decorative items, tools, jewelry, books, lots of gift certrificates for restaurants, fast food, auto, entertainment, salons, hotel stays, and much, much more.
From 9:00 am to 4:00 pm on September 15th, we'll be selling Fresh Colony Produce at 900 North Cliff Avenue (our former Thrift Store building).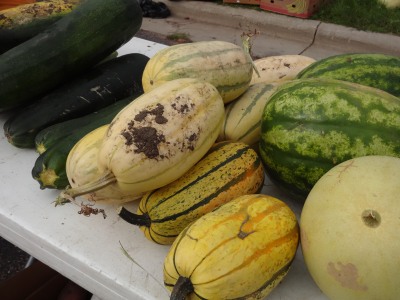 To view photos of this years items that will be up for auction, visit our Facebook page at The Salvation Army Sioux Falls - https://www.facebook.com/salvationarmysiouxfalls/photos/?tab=album&album_id=817037145098850
All proceeds from the Auction and Produce Sale will benefit Salvation Army programs and services for Lincoln and Minnehaha Counties.
Special Thanks to the George Boom Funeral Home for placing a courtesy ad in the Argus Leader on our behalf and a Huge Thank You to all of the businesses and individuals who donated items for our annual fundraising event.
###
Sallie's Table in need of Volunteers
Sallie's Table is The Salvation Army's weekend feeding program. It begin in 2003 as a mobile feeding program. The meals were served downtown. By the Spring of 2004, the need had increased to the point that it was no longer feasible to serve mobile meals. The decision was made to move the program to The Salvation Army's building at 800 N. Cliff Avenue . The program has remained in operation at this location for for the past 13 years. The Salvation Army serves a meal every Saturday and Sunday throughout the year. Meals are served from 5:00 pm to 6:00 pm. Volunteers are needed to help serve meals. To volunteer, please contact Marcie Priestley at 605-338-6649 ext. 317 or marcie_priestley@usc.salvationarmy.org.
"All are welcome around Sallie's Table at The Salvation Army".
###
Did You Know?
The Salvation Army of Sioux Falls offers a program on the second Thursday of the month called Senior Food Commodity Box Distribution? Every month 7 to 8 tons of food are given to local seniors in Lincoln and Minnehaha counties. This program is a partnership with the State of South Dakota and Feeding South Dakota. We have 600 seniors on our distribution list. Every month volunteers are needed to assist with the distribution of the boxes. Around 200 are delivered in Sioux Falls. Specifically, volunteers are needed to distribute cheese, assist seniors with taking the boxes to their vehicles and /or ride along on a delivery route with Salvation Army peronal in a Salvation Army vehicle. To volunteer, please contact Marcie Gothard at 605-338-6649 ext. 317 or marcie_gothard@usc.salvationarmy.org